About us
Antałówka Apartments
in Zakopane

Immerse yourself in the atmosphere of pre-war Zakopane and relax at the most scenic point of the town! Imagine waking up in soft bed sheets in the morning. You wrap yourself in a comfortable, plush robe, go out to the balcony, and admire the view of the Giewont massif covered with a delicate mist. You take a deep breath and your lungs fill with brisk mountain air. You take a sip of aromatic coffee.
Sounds like a dream? We can make this dream turn into reality. The Antałówka Apartments complex was created just to give you the desired respite from daily life, a moment to yourself in proximity to nature. All you have to do is book a stay in one of our apartments and we'll make sure that the holidays you spend in the capital of the Tatra Mountains are unforgettable.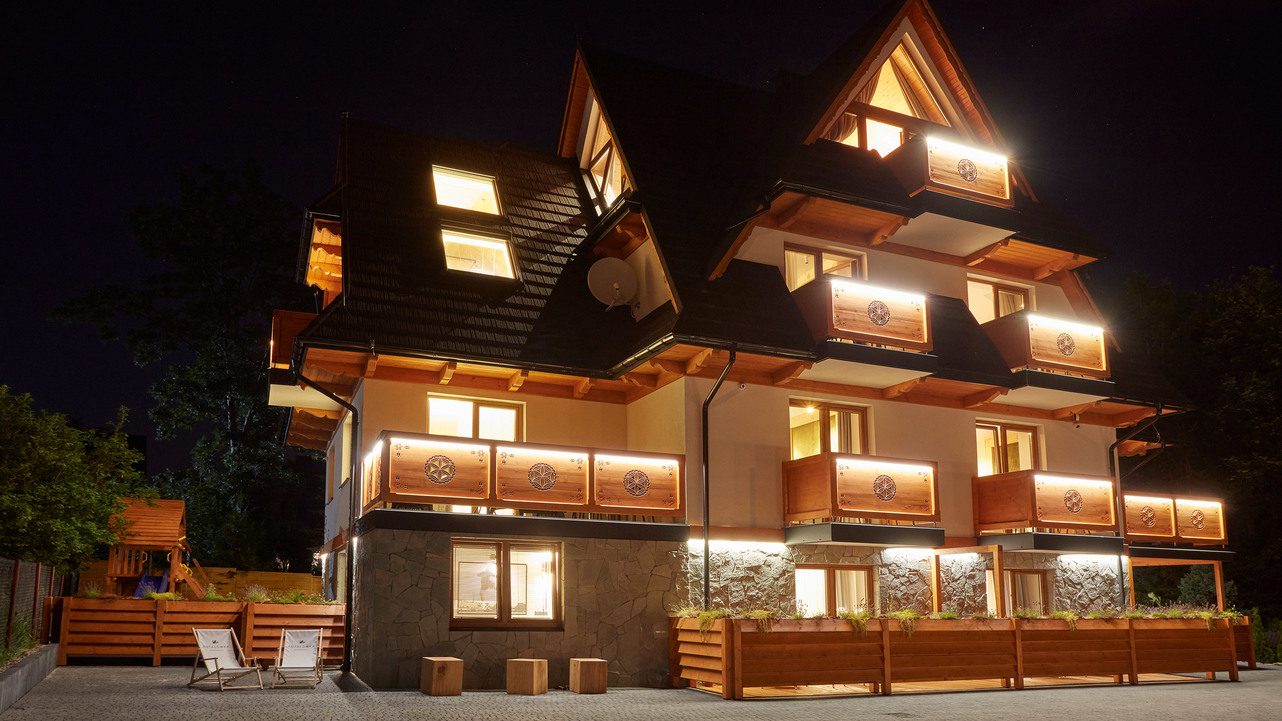 Our most valuable asset is the excellent location – only fifteen-minute walk separates us from the ski jump Wielka Krokiew, five minutes from the nearest ski slope, and twenty from the center of Zakopane. Each room has a wonderful view on the mountain ranges.
From the windows we can admire the wild passes of Orla Percia, as well as the Sleeping Knight, and a trained eye might even notice the cable car to Kasprowy Wierch.
We offer our guests ten unique apartments, arranged so that visitors feel like the elites of Young Poland who used to entertain themselves here before the war.
It was here that the crème de la crème of those years came to rest – among others writer Kornel Makuszyński, composer Karol Szymanowski and poet Władysław Broniewski. In the picturesque mountain scenery, the love of the pre-war cinema star Eugeniusz Bodo and the phenomenal Neri, actress from Polynesia, flourished. Near Giewont they staged their dance programme which attracted crowds of viewers. One of the first FiS championships in winter sports took place here, social life blossomed – the most prominent figures of pre-war Europe came here, personas such as famous singer Jan Kiepura and successful actor Adolf Dymsza enjoyed their time skiing.
By choosing accommodation in Antałówka you will immerse yourself in the atmosphere of good drinks and starry nights with climatic music. The apartments have been designed in retro taste – old skis, black and white photographs, pine wood. With us…you can travel back in time!
Each of our apartments has been arranged to provide guests with full comfort during their stay – comfortable, fully equipped bathrooms, bright interiors, modern electronics and household appliances, and that's not all.
The apartments will please enthusiasts of active leisure – you will have new mountain bikes and trekking poles, as well as a ski room at your disposal. In the yard there is a playground with a sandpit for little travelers.
Choosing a holiday in our apartments you can enjoy the beauty of nature away from the hustle and bustle.
Do you want to feel special?
Do not hesitate and book your stay today!